If you plan on renting the DVD of "All Good Things," please read this first
Kathie McCormack was a beautiful young woman. When I look at pictures of her, I remember an even prettier woman.
I liked Kathie because she was not all about her looks and that helped because I was so insecure about mine. My three brothers had secret crushes on her. I think they might protest this proclamation now, but their older sister saw their faces. Kathie always laughed the loudest at my father's jokes and nothing pleased my late father more then to have a beautiful woman think him the cleverest man in the room.
On January 31, 1982 Kathleen McCormack was murdered. She was declared legally deceased in December 2001, but Kathie was murdered on January 31, 1982.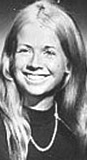 By her husband, Robert Durst. It still makes me all kind of angry to give this psychopath any ink, but mad men cannot always hide in the darkness. For the record, he was never arrested, never found guilty of her murder, but that does not mean he didn't do it. He did.
I am not an investigative reporter or in law enforcement. Kathie was a member of the family. Her family become blended into ours by marriage.  She was  my aunt's sister and we were  around the same age. It was a good mix of people who loved to laugh and they were quite the diplomatic lot because they ate my father's burnt hamburgers.
I was living in Manhattan when Kathie went "missing."  I was an eastsider at the time while she resided with her monster in residence on the west side. Her disappearance made the news, BIG time. Every time I turned around, there was Kathie. Two dimensional yet so likable.  And beautiful. She was close to graduating and becoming a doctor. If memory serves me well, she wanted to work with kids.
It seemed like everyone wanted to find her – alive.
I overheard two women talk about her as if they knew her while I waited for a train to take to my parents' home. They were being judgmental because Kathie was wearing a halter top on the front cover of one of the papers. How quickly people were starting to create this false image of her.  Be very careful what you say about people in a public place. You never know who is standing next you. It does cut deep.
(A few years later, I was attending a writers' workshop in the city. The editor of one of the leading woman's magazine got up to talk about their current issue. It contained an investigative story about abuse and women and there on the large screen was Kathie's face. It was the oddest feeling to sit there in the dark and see her, but I was grateful that her story was still out there. I made a point to meet the editor later and when I explained who I was, she looked like she was going to faint. The world is a small place.)
Kathie's murderer is a fine and upstanding member of the Durst family. Here is what I found on their website: For nearly a century, The Durst Organization has been a family-run real estate company grounded in simple but profound principles: Innovation. Integrity. They offered no help when Kathie could not be found. They hid Robert Durst from the authorities. I think you need to drop the word integrity from your site. You have none. Durst had been investigated in three other murders/disappearances and now the family is afraid of him. As I write this I realize, so am I. We all should be.
There is a DVD that just came out based on Kathleen McCormack's tumultuous imprisonment and her murder. One of my brothers, who sent the trailer of "All Good Things" to me when the movie came out, remarked, "Well, it is loosely based on it. Looks pretty real to us."
"The truth is hiding," the trailer says. And to those of us who love Kathie and her family…it is hiding… in plain sight.
Thirty years later. It can still feel like yesterday.
To submit a question for elizabeth's column, please e-mail elizabeth at [email protected]. Every letter is important and reviewed carefully. However, because elizabeth receives a very large number of letters, she cannot answer every one. Thank you for understanding.
To schedule a complimentary coaching session with elizabeth, contact elizabeth through her site at www.coachingforthecreativesoul.com.
To read her blogs about life and the world at large, please go to:  http://www.elizabethcassidyart.com/#!blog/cox9
Originally published February 27, 2012