I had not planned to blog again until this coming week when I will be doing a blog with my friend, tv and film star, Elaine Hendrix.  But, as they say, "The best laid plans often go awry."  Today something happened to me that I just have to share with you.  It goes to show that at my age, when I think I have experienced it all, there is always a lesson to be learned. A miracle to see. A joy to share. Today the joy was shared with me by a child I don't even know.  For a few brief moments, this little girl let me see the joy and belief in Christmas through her eyes and I am so grateful.  Let me tell you about it.
This huge baby is my dog Addie.  She is one of the brightest lights in our lives. A three year old, 165 pound bundle of love who is 95% heart and 5% dog.  We adore her.  Addie is actually a bit of a movie star.  When she was 6 weeks old she was one of the puppies in the Disney film, "Beethoven's Big Break." Since that time she has retired and is just our baby 24/7.  She is the epitome of a gentle giant. She is a beastie who is so large that you cannot find a dog bed for her so her favorite place to lay at one time was an old sofa which she filled with her enormity.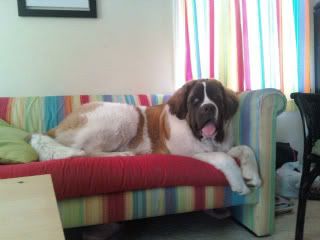 Addie has now grown to a size where she sleeps in the laundry room and has access to the kitchen. So today was time to do my weekly clean up of any shedded hair (she sheds like a mad woman) and clean her sleeping area. I was feeling a little bitchy because I hate this chore. Finally I finished and I decided to go outside for a breather before moving on to my next house cleaning task.
So as I am standing there inspecting the oranges that are ripening so beautifully on the tree in my front yard, a little girl about five or six comes running up my driveway excitedly screaming, "This is the house, daddy! This is the house!" She was followed by her father who was trying to convince her that you just can't run up to people's homes without being invited.  She then turned to her daddy and said, "Santa's dog lives here!"
I had never seen the little girl or her daddy before. She was adorable.  About that time, Addie, jumped up on the gate (which is almost 5 feet tall) to greet the child and this kid went nuts with excitement. Her father's eyes got huge at the size of the dog, lol.  As I stepped from behind the orange tree I heard him tell her, "Honey, I don't think it's Santa's dog, but I'll bet it's one of Santa's dog's puppies."  The child seemed to accept that.  At that point I had walked over to them and he began to apologize for the intrusion.  I told him not to worry, I didn't mind at all.  At that point the little girl looked up at me and asked me if Addie was one of Santa's puppies.  I couldn't help myself.  I said, "Well, yes she is.  How did you know?"  She was literally shaking with excitement, "I just knew it. I saw her before."  Oh the beauty of belief in a world that is so hard most of the time.
At that point I asked her if she would like to meet Addie and she said yes. So, I opened the gate and held Addie by the collar so that she wouldn't accidently knock the little one over and let them get to know each other.  Addie is such a lover and she was so huge next to that tiny body. But she was so gentle and still as the little one hugged her and kissed her on the forehead.  The little girl actually had tears in her eyes (as did her dad and I) as she kept telling Addie, "I just knew it was you."  It was a very humbling experience.
When the time came to go home and let Addie get back to her work of playing jolly ball in her yard, she thanked me and hugged her daddy.  He then mouthed to me as she was hugging him, "Thank you." To which I said, "No. Thank you."
This was such an unexpected and precious experience for me.  The privilege at my age, in this very difficult world, to see Christmas joy through the eyes of this little girl I didn't even know and never even got the name of. She is just a little angel who flitted in and out of my life for a very brief moment. But, WOW, what an impact she had.  I have had such a light heart and felt such Christmas joy since she left here.  I went outside and had a snuggling session with Addie and thanked her for being such a sweet girl then I went in the house and finished cleaning up the dog hair she has left around with a totally different attitude.
I had no clue what tv special or story the little girl may have gotten the idea that a St. Bernard was a "Santa Dog".  But, I have since talked to my daughters, Christa and Melanie, and they tell me that there is a dvd of Beethoven's Christmas.  So we are figuring that must be where the child got the idea.  But, I tell you one thing. I'm so glad she did because it became a true Christmas blessing for me.