Click On The Images Above To View In Original Size
Top and Second Rows (L to R) Carol Channing, Ruth Buzzi, Jean Simmons, Mamie Van Doren
Bottom Row (L to R) Julie Newmar, Gilles Marini, Ruta Lee, John Schneider
All photos copyright Alan Mercer
I wanted to share some of my favorite people with all of you here at Here Women Talk. When I came to Los Angeles to pursue my dream of being a screenwriter and producer at the age of 49 I was so green it was embarrassing. I had no clue what I was doing. The lessons were and are still quickly learned in how to make it work in such a difficult and competative landscape. Along my journey some amazing people have come into my life who have taught me, believed in me, supported me and been role models. I will forever be grateful to these wonderful people and love them dearly. These are the people who are the backbone of the real Hollywood, not the poster children for bad behavior that the tabloids keep in our faces everyday. They are the true creative geniuses. The brilliant artists. The activists. These are the people who are the unsung heroes who bring beauty and entertainment to our lives on so many different levels and in so many different ways.
The first person I would like you to meet is my dear friend, Alan Mercer. Alan is the much celebrated, uber celebrity photographer who brings us brilliantly gorgeous photographs of our favorite stars in magazines, such as People, publicity photos, album covers and who creates some of the most beautiful celebrity portraiture in the industry. It is no wonder that the stars search him out when they want that, oh so perfect photo shoot. He has and continues to photograph some of the greats in film and tv and to create some of the most beautiful iconic album covers in the music industry and I am proud to call him my friend. The more I have learned about Alan, the more I have learned about following my own dreams, honesty, passion for my work, setting the bar high for myself and remaining a good, decent, grounded person in a very difficult, often self-centered industry. He is one of the best of the best in Hollywood.
I hope you enjoy our little chat below:
Theresa: One of the first things I learned when my daughter and I came to Los Angeles to pursue her acting and my writing/producing careers was the importance of photographs. Whether it is a head shot or a still, a dvd cover or a film poster, photographs are vital to any actor, producer or filmmaker. When we came here we quickly learned that your photograph can earn or lose you an audition, an agent or a role because it is the first impression that the industry has of you. It is upon that photograph that they decide whether or not to even consider you for a role. There are photographers on every corner in LA, but there are only a handful of truly great, respected photographers. You are one of that handful. Why do you think you've been so successful?
Alan: I know I have been blessed to be passionate about what I do. That must help a bit. I really have never done anything else with my life except perfect my ability to create beautiful images with other people. I have been doing this for over twenty years with eleven of those years being in Los Angeles. I was already mature when I got here and I have ultimately been very serious about making a living in photography and image-making…which is not easy. I have no other responsibilities like a family or mortgage so that helps. I have always said that as an Artist you do what you do and you keep your fingers crossed that people will like it! Also, I am a professional and I only say what I mean, which is also rare.
Alan Mercer & Andy Warhol
Theresa: You had the opportunity to meet your idol, Andy Warhol, when you were a teenager. You presented him with a beautiful pencil drawing you had done of him. I can only imagine what this meeting meant to you. How did meeting Andy affect your future?
Alan: Meeting Andy sure gave me a story to tell and a bit of a legacy. I didn't even begin to realize how important it was at the time. You never can tell these things until years later. He was the sweetest man you could ever imagine. He absolutely bestowed some confidence in me when he told me I was very talented. He came across very genuine and humble.
Theresa: You are a very gentle, loving man. Whatever possessed you to become involved in the incredibly tough, competitive entertainment industry?
Alan: Thank you. I am gentle by nature. I am not suited for this industry, really. I have rhino skin by now. But that is good. I need it. I just LOVE doing what I do. It's the old follow your bliss thing…but following my bliss can at times be like going through a war zone! I also think I can survive this because I do not care anymore. I have nothing to prove. I've already fulfilled many dreams. I've already won! No one can hurt me.
Theresa: In Hollywood, head shots are no longer the glamorous, almost ethereal, starlike photos of the past. Casting directors, producers and agents want photos that are not only real, but that tell a story about the subject of the photo in one glance. This is the actor's one shot to get their attention and have them find that "something special" in them. I have never seen head shots that capture the actor's soul and inner light like yours do. They are magnetic. You just can't look away. I mean your photos, though totally real, are not just photos. They are art. How do you accomplish this?
Alan: I have no idea! I put as little thought into it as possible. I'm convinced that's where the magic is. I am the opposite of thought out. I do recognize where the good light is in natural light outside. I do know the best angles for someone's face as well. I also think people are more relaxed with me since I'm not stressed.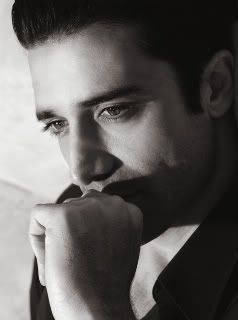 Gilles Marini
Theresa: You have photographed some of the most celebrated people in the entertainment industry. The greats. Carol Channing, Julie Newmar, David Carradine, Gilles Marini, Bill Mumy, Linda Gray, Jean Simmons, Mamie Van Doren, Michelle Phillips, Rona Barrett, Ruth Buzzi…the list goes on and on. You have done spreads and covers for some of the best known magazines in the world and you are responsible for some of the most amazing album covers to date. Do you ever get star struck?
Alan: That's a good question because I think I do get a little star struck, but maybe not enough to register too much. I get star struck when it involves a person I liked as a kid more than I ever would someone like Miley Cyrus or Zac Efron, who I have been been around both and felt nothing close to star struck. But, put me with a soul singer who had one hit in 1969 and I might be a little more excited!!!!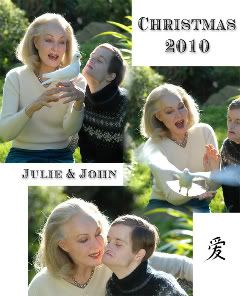 Julie Newmar and Her Son, John
Theresa: As you and I have discussed before, there is one particular photograph that you took of our beloved Julie Newmar and her son, John, that as a mother makes me cry every time I see it. John was born with special needs and it is well known how very precious he is to Julie. I just don't know if any other photographer could have captured the deep love between mother and son that is in that photo. It is as if it actually speaks. What was your inspiration for this very beautiful photograph which was Julie and John's 2010 Christmas card?
Alan: I remember that day I went to Julie's home. I wanted to take some photos of her and John as a gift for Julie. We just went in the back yard and I let them be themselves and tried to document the moments. Those photos are a gift to me…often the very best photos are 'gifts' because everything came together in the right mili-moment. The reason the deep love is conveyed is because it is so very real. Despite the artifice with today's photography…I still look for something real to be the underlying feeling.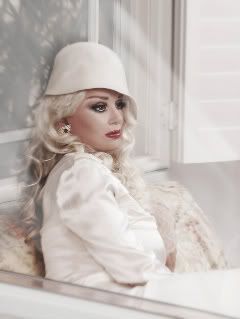 Mamie Van Doren
Theresa: You are especially close to Mamie Van Doren, who at the age of 80, is this vibrant, gorgeous, sexy, intelligent, amazing woman. You have taken some incredible photos of her and the two of you recently made a book together. What can you tell us about it?
Alan: Mamie is my Number One! She and I grew up together in regards to the work we have done. The book called, "Mamie Now" is a five year collaboration. My publisher, Molly Berke, just approached us a year ago with the idea of publishing this book and we said, why not. I adore having a book with a Library of Congress number! I adore, even more, calling Mamie my friend.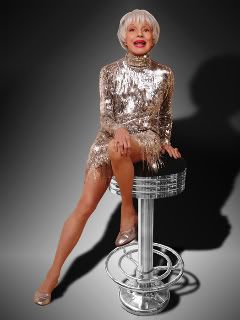 Carol Channing
Theresa: Because I am such a rabid fan of hers I have to ask this. What was it like to shoot photos of Carol Channing? This woman is a living legend! I grew up on her incredible performances and have loved her since childhood. I can't imagine even being in the same room with her.
Alan: What an exciting day that was!!!! I went to Palm Springs with the producer of Carol's CD, Larry Fergeson, and my friend and hairdresser, David Blackstock, and we spent the night at Ruta Lee's Palm Springs home. Ruta is David's Godmother. We got up the next morning, the day after Carol's 88th birthday, and went to her home and did the shoot. It was really fun and went by very fast with Carol really coming to life when the camera was pointed at her. I fully knew that it was a once in a lifetime chance to photograph an American Icon.
Theresa: Do you have a favorite photo shoot?
Alan: Any shoot that has ended with good results and little drama!!! My favorite shoot is the ones ahead of me really. I live for the next shoot! I really do. From shoots I have already had, I adore Mamie's, of course, and Etta James.
Theresa: A couple of years ago you began a blog in which you interview the celebrities that you are shooting photos for. The conversations are very candid and relaxed and extremely enjoyable to read. There is such a natural ease between you and the celebrity. What gave you the idea to start the blog?
Alan: Thanks. I got the idea from the old 'Andy Warhol Interview' magazines in the 70's. There would be a superstar on the cover and the interview would be over lunch and be very casual and real. I don't even call mine interviews. They are conversations with me asking the same questions I would even without a recorder on. I was always doing this and I realized blogs were big and if I transcribed my conversations that would be the blog. I hoped people would like them and I didn't have to worry. The blog will be three years old in January and I have never had so much fun!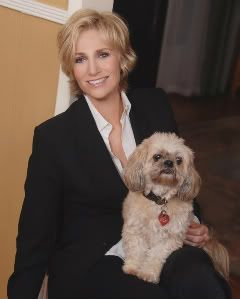 Jane Lynch

Theresa: One of my favorites of your blogs as well as one of my favorite photos is of Jane Lynch. I am such a fan of this amazing woman. What is Jane like?
Alan: I love Jane Lynch! I met her on the set of a now cancelled sitcom, "Rodney" and told her I loved her and that I should take her photo. We did it less than a week later. Jane's career really took off in the mean time and when she needed shots again she called me. She took me out on a date in Beverly Hills one Saturday evening too! I'm thrilled I got to know her!!!
Theresa: I once read in an interview with you that you said, "My success has made me able to be comfortable where if I'm not here tomorrow, God was good to me. I mean really, truly, if I die tomorrow, this life was a success because I did get to live my dreams – I'm still living them." This is what my life is about at this stage of the game as well and it's what this column is about. Living our dreams regardless of circumstances or age. What dreams have you yet to attain that you would like to fulfill?
Alan: I feel I have SO MANY photographs to take yet. I feel like I am just getting started. I am not young anymore, but I feel young and I feel hungry. If I am gone tomorrow it is true I could NEVER complain as I have been SO BLESSED! If I am around for a while I just want to stay on my path and keep getting better and do bigger projects that pay better of course!!!
Theresa: Do you have any advice or words of wisdom for those who are hesitant to live their dreams for whatever reason? Who may be afraid to reach out and grab that one thing they've always wanted to do all of their life?
Alan: I think everything is ultimately even and equal. It all depends on what you want. Know yourself is the best advice. I know I would not be happy if I was compromised. If I could be a millionaire but would have to give up making images, I wouldn't want it. I am posessed. If you are not this intense then you should do what you can within your limitations. It's everyone's responsibility to find hapiness and contentment. It's here for everyone of us if we really want it. Learn to see your fear as an opportunity. Fear is right in front of the good changes!!! Courage is the most important thing for all of us for without it we wouldn't progress.
Theresa: You know I love you to pieces. You are such an inspiration to me and I am so grateful for all of your support and kindness. Thank you for sharing your time, your life , your love and your beautiful work with all of us.
Alan: Thank you so much, Theresa. I am truly thankful that you care to ask these questions. Please consider me a fan of your wonderful work as well!
Thus ends my time with Alan Mercer. We both hope you have enjoyed the conversation. I hope you will all take a moment and visit Alan's amazing blog. I have spent hours reading the amazing conversations he has had with his star clients. It truly is wonderful. You can read the blog at http://amprofile.blogspot.com I guarantee you will be enchanted.